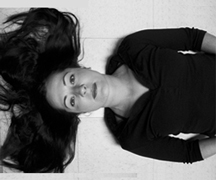 Erica Rebollar was born in Madrid, began studies at Washington School of Ballet, and completed her MFA in choreography at UCLA. With the founding of RebollarDance in 2003, Erica Rebollar created a modern dance collaborative where multi-genre artists can make innovative work. RebollarDance examines dichotomies and fragmentations of physical behavior that explore boundaries of performance, using bodies, light and sound as conceptual canvasses to evoke authentic, highly charged experiences for both dancers and audience.
Rebollar was a 3-time Lester Horton Award nominee in Los Angeles. Awarded the prestigious Mabou Mines Suites residency program in NYC, Erica showed works at PS 122 and St. Mark's Church. She was a recipient of Joyce Soho's A.W.A.R.D show, performing at Judson Church, DTW (NY Live Arts), DNA, TPAC, and the Flea.
Upon relocating to DC, RebollarDance has received funding from the Art Council of Fairfax County, Kennedy Center's LDCP grant, Culture DC's Mead Theatre Lab Program/CityDance at Strathmore, and space grants from American Dance Institute and Dance Place. The company has performed numerous evenings at Dance Place, VelocityDC/ Harman Hall/Shakespeare Theatre, Kennedy Center's Millennium Stage, ADI, Atlas, Roundhouse, and Jack Guidone Theaters. Nominated for two Dance Metro DC Awards, RebollarDance has been twice highlighted as a Season Pick in City Paper and Washington Post with features on WAMU radio, FOX 5, and NBC news shows, along with a feature in the "Arts and Power" issue of DC Magazine/Modern Luxury. Hailed as "exactly what the District needs", RebollarDance received a 2013 Dance Metro DC Award for "Excellence in Choreography".
RebollarDance is the current awardee of Fairfax County Art Council's Operating Support Grant and Dance Place's Space Grant for her recent creation of "Sacred Profane", to be toured through the National Performance Network. Erica is currently Visiting Artist in the Department of Dance at UMBC and the 2016 awardee of the prestigious Pola Nirenska Award for Outstanding Contributions to Dance.