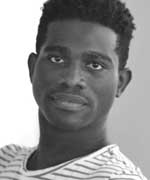 Originally from Ghana, Heinz Adjakwah began his dance career taking technique classes in his senior year of high school and upon graduation; he enrolled at Morgan State University, where he majored in Nursing. He became a company member of the Morgan State Modern Dance Ensemble under the directorialship of Dr. Iantha Tucker and was awarded the Dorothy .P. Stanley Scholarship the spring of his freshman year. This gave him the opportunity to participate in a summer intensive in Atlanta, Georgia with the Atlanta Dance Connection Dance Company.
After being at Morgan State University and with the Modern Dance Ensemble for two years, he transferred to the University of Maryland, Baltimore County and graduated in December 2015 with a dual degree in Dance and Health Administration and Public Policy. He recently performed at the Kennedy Center in Washington D.C during the National College Dance Festival which featured him in a duet choreography that received the Outstanding Student Choreography Award from the American College Dance Association Conference and Dance Magazine.
His choreography was also presented at the American College Dance Association 2015 and has performed with Baltimore Dance Project and Howard County Ballet in Maryland.  Adjakwah has also been a recipient of the Summer Dance Study Award at the University of Maryland Baltimore County and gained an internship position at the renowned Jacob's Pillow Dance Festival the summer of 2015 where he took classes taught by distinguished choreographers like Kyle Abraham, Eric Gauthier  and dance companies such as BODYTRAFFIC, Jessica Lang Dance, Gauthier Dance, La Otra Orilla, MADBOOTS Dance and many others. As time progresses Adjakwah aims to use his gift to inspire and change lives through performances and teaching.